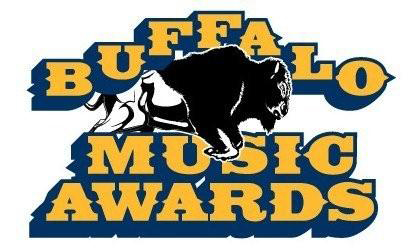 Top Female Vocalist Lori Richert
with her band Siamese Eyes
In front - Brian Marche, Bruce Decker
In Back - Jenny Tripi, Art Wall, Lori Richert & Glen


---
SEEKING INFO ON 1985 BMA'S
The initial date of the 1985 BMA's was canceled because of a snowstorm so it was held a week or two later.

This is the only year for which we do not have the winners.
Below are the nominations for 1985.
If anyone knows who won awards this year please send photo of the winning band/individual for this page. For verification include a photo of the plaque.
Recieved information on many of the award winners from Gary Styn at that time a member of Savoir Faire and who is now in Route 66. They are listed in bold on the nomination listing. If you have information on the other category award winners please send it to us.

Send any information on the 1985 BMA's to : info@buffalomusicawards.com
1985 BUFFALO MUSIC AWARDS
NOMINATIONS
HARD ROCK GROUP
Assailant , Ezekial, Izzy Wilde, Tritium, Zillion

ROCK GROUP
Little Trolls, Rred, Siamese Eyes, Tarkus, White Lies

ORIGINAL BAND
Bob Dye Band, Fans, Promise, Radio Art, Splat Cats, Watchers, David Watts Band

TOP 40
Brimstone & Lace, Ferguson & Taylor, Joyryde, Junction West, Madrigal, N.R.G., Savior Faire

OLDIES (50's & 60's)
Big Wheelie, Crash Cadillac, Kiki Birds, Pastime, Phil & the Spectors

EASY LISTENING
Tony Galla & Time Piece, Leon Hall Group, Jackie Jocko & Joe Peters, Lombardo & Wahl, Thirds

JAZZ / DIXIELAND
Barroom Buzzards, Charlie Fadale & Collaboration, Sam Falzone Band, Bobby Jones & Rushour, Eli Konikoff  Dixieland Band, Sunrise

BLUES
Buffalo Blues Band, Kingsnake, Willy May Blues Band, Shakin' Smith, Stan & the Ravens, Stevie B & the Rhythm Rockers

COUNTRY ROCK
Buffalo Zew, Moonshine, New Breed, Ozone Rangers, Jim Yeomans Band

NEW GROUP
Kiki Birds, Lions, Promise, Savoir Faire, Skin Deep, Sons & Lovers, Jim Yeomans Band

SOLO ARTIST
Rudy Casper, George Doran, Jon Kondal, Korki, Pat Shea

NON-LOCAL CLUB BAND
Alpha Centori, Cheater, Clevelend, 805, Harpo, Mitch & the Angelos, Monarch

CANADIAN CLUB BAND
Brighton Rock, Gemini, Forum, Rick Rose Band, Shoes, Voices

LOCAL RECORDING
New York Rockets, Promise, Sons & Lovers, Splat Cats, Tritium, Watchers

GUITARIST ROCK
Bob Andolora (White Lies), Kenny Andrews (Zillion), Bobby Lebel  (Rred), Tim LaFik (Watchers), Brian Marche (Siamese Eyes), Calvin Nichols (Little Trolls), Bob Wilczak (Lions)

GUITARIST TOP 40
Jim Batastoni (Spell), Bruce Brucato (Junction West), David Droz (Savoir Faire), Charlie O'Neill (Thirds), Jim Yeomans (Jim Yeomans Band), Paul Weitz (National Trust)
GUITARIST JAZZ / BLUES
Dick Bauerle, Tony Genovese, Doug Morgano, George Puleo, Tony Scozzaro , Stu Weisman

BASS ROCK
Dave Forrest (Rred), Dan Hairfield (Two Hills), Mac James (White Lies), Guy Nichols, (Little Trolls), Frank Pusateri (Lions), Alan Thompson (Watchers), Art Wall (Siamese Eyes)

BASS TOP 40
Bobby Baumker (Gerber Ryan Band), Geoffrey Perry (Vincent Michaels Band), Rick Ryan (Skin Deep), Tom Reinhardt (Junction West), Tadj Symczak (NY Rockets / Transfer)

KEYBOARDIST ROCK
Bruce Decker (Siamese Eyes), Ron Eschner (White Lies), David Kane, Danny Roland ( Watchers), Jim Sommers (X-Dreams), Stan Szelest (Stan & the Ravens)
KEYBOARDIST TOP 40
Ricky Briggs ( Junction West), Ronnie Davis ( National Trust), Lisa Hayden ( Trick), Mike Lacki ( Joyryde), Vincent Michaels (Vincent Michaels Band)

DRUMMER ROCK
Mike Cox (White Lies), Glenn Jost (Siamese Eyes), Jamie Z (Ezekial), Sal Joseph (Rred), Mike Terrana (Zillion), Howard Wilson (Promise)

DRUMMER TOP 40
Ricky DeSantis (Madrigal), Buddy Hinds (New Release), Mike Lynch (Gerber Ryan Band), Ken O'Connell (Savoir Faire), Tom Ryan (Impact)

MALE VOCALIST ROCK
Bruce Evans (Alpha Centori), Billy McEwen (Buffalo Blues Band), Mike O'Mara (Rred), Shakin' Smith (Shakin' Smith Band), David Watts (David Watts Band)

MALE VOCALIST TOP 40
Big Wheelie, Lance Diamond, Tony Galla, Ike Smith, Harry Stewart (Junction West)

FEMALE VOCALIST ROCK
Glenda Chausse (Strider), Pauline Digati (Promise), Donna Palmer (Skin Deep), Lori Richert (Siamese Eyes), Reeta Seitz (Watchers /Fans)

FEMALE VOCALIST TOP 40
Cheryl Baer (Body Heat), Johnna Bolender (Joyryde), Jean Deegan (Teaze), DeeAnn DiMeo (NRG)
Este K. (Savoir Faire), Tasha Williams (Trick)

HORN PLAYER
Bilal Abdullah, Sal Andolina ,Lew Custode, Nick Salamone ,Dave Schivone

LOCAL COMEDIAN
Tony Christopher, Mark Fodero, Blaine Kelly, Pancho Parrish, Reed Rankin, Paul Slater

1985 HALL OF FAME INDUCTEES
Big Wheelie
Shakin' Smith
Ted Reinhardt