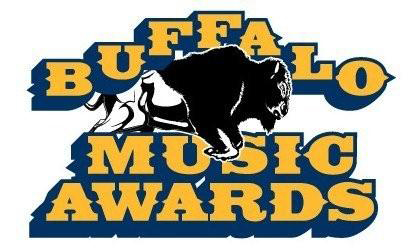 1987 BUFFALO AREA MUSIC AWARDS
PART 1 ~TOP 40 / JAZZ NIGHT
JACOBI'S -  NOVEMBER 23, 1987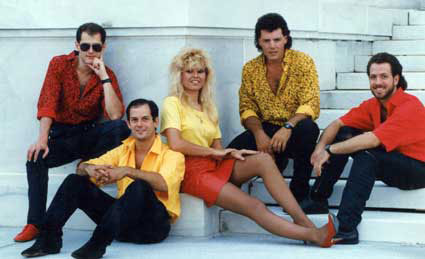 AIRPLAY'S 5 PLAQUES
PACE MUSIC AWARDS

Reprint from  The Buffalo News
November, 24, 1987
by Dale Anderson
News Critic

The group Airplay collected five plaques, including honors as new top-40 band and top-40 guitarist, in the Top 40 and Jazz installment of the seventh annual Buffalo Area Music Awards Monday night in Jacobi's Restaurant, Lackawanna. Awards for Rock and Original musicians will be given tonight in September's in Cheektowaga.

Airplay's Bruce Brucato won the guitar award, while singer Johnna Scime, keyboardist Ricky Briggs and drummer Joe Santee were given runner-up prizes in their separate divisions. Winners were determined by votes cast by musicians and others working in the music business in and around Buffalo.

Airplay demonstrated its winning form by playing a set as part of the evening's festivities. Also performing were the jazz group Buffalo Brass and top-40 bands Junction West and Savoir Faire.
Savoir Faire, which came up as the runner-up in the overall top-40 group category in voting by its musical peers, emerged as most-popular top-40 group in ballots cast by the readers of Buffalo Backstage magazine.

Readers also chose Harry Stewart, singer for the veteran group Junction West for 13 years, as most popular top-40 performer. Musicians voted Stewart runner-up in the top-40 male vocalist category.

The Buffalo Brass captured runner-up honors in the jazz group category, in which all the votes were write-ins. Leader Phil Sims won first place in the jazz trombone division. Since local jazz players commonly work with more than one ensemble, they were not named by band affiliation.

Lady Fire, the top-40 group that captured best-band honors last week in the Night-Life Entertainment Awards, repeated its success by being chosen winner in the overall top-40 group division.

Singer Laurie Moran, took first honors as top-40 female vocalist, while bassist Winnie Bergner took the runner-up plaque on her instrument. Buffalo Backstage editor Rick Falkowski noted that this was the first time a woman had won an instrumental award.

Inducted into the Buffalo Area Music Awards Hall of Fame was keyboardist and band leader Vincent Michaels, who was honored for pioneering electronic music locally.
Three more Hall of Fame entrants will be named tonight at September's.

Monday night's award-winners and runners-up:

TOP 40 GROUP
Lady Fire
Savoir Faire

CLASSIC TOP 40 GROUP
Party Squad
Pastime

NEW TOP 40 GROUP
Airplay
Body Talk

TOP 40 MALE VOCALIST
Mark Dixon – Party Squad
Harry Stewart – Junction West

TOP 40 FEMALE VOCALIST
Laurie Moran – Lady Fire
Johnna Scime  – Airplay

TOP 40 GUITARIST
Bruce Brucato – Airplay
Dave Elder – Party Squad

TOP 40 KEYBOARDIST
Jim Summers – X-Dreams
Ricky Briggs – Airplay

TOP 40 BASSIST
Tadj Szymczak  – Joyryde
Winnie Bergner – Lady Fire

TOP 40 DRUMMER
Tom Ryan  – Eclipse
Joe Santee – Airplay

SOLO/ACOUSTIC PERFORMER
George Doran
Pat Shea

TOP 40 CLUB
Jacobi's
G Williker's

JAZZ CLUB
Blue Note
Anchor Bar

COUNTRY CLUB
Golden Nugget
Club Utica

JAZZ GROUP
Magnitude
Buffalo Brass

JAZZ GUITARIST
Greg Millar
Dick Bauerle

JAZZ KEYBOARDIST
Al Tinney
Bobby Jones

JAZZ BASSIST
Greg Piontek
Jim Coleman

JAZZ DRUMMER
John Bacon, Jr.
Lou Marino

JAZZ TRUMPET
Jeff Jarvis
Dave Anderson

JAZZ SAXOPHONE
Bilal Abdullah
Carol McLaughlin

JAZZ TROMBONE
Phil Sims
Rick McCray

JAZZ VOCALIST
Peggy Farrell
Geri Peters

MOST POPULAR TOP 40 GROUP
Savoir Faire

MOST POPULAR TOP 40 PERFORMER
Harry Stewart – Junction West

MOST POPULAR COUNTRY BAND
New Breed
---
1987 BUFFALO AREA MUSIC AWARDS
PART 2 – ROCK & ORIGINAL NIGHT

SEPTEMBER'S - NOVEMBER 24, 1987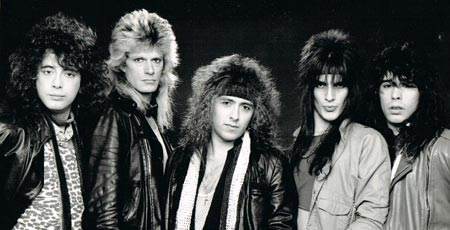 ROCKCANDY
PILES UP A MOUNTAIN of FIRST-PLACE AWARDS
Reprinted from the Buffalo News – November 25, 1987
by Dale Anderson
News Critic

It was Rockcandy night at Part Two of the seventh annual Buffalo Area Music Awards Tuesday. The quintet took home four first-place plaques and one runner-up as honors were handed out to rock and original bands before a crowd of more than 1,000 fans and musicians jammed into September's Café.

Rockcandy captured firsts in the hard rock, original and album categories, with Johnny Angel coming out on top in the hard-rock guitarist division.  The group finished second on the new-rock list behind the group that finished second in the hard-rock category, Silken Steel.

Rockcandy's victories came as no surprise. The group took rock band and best album honors last week at the Night-Life Entertainment Awards.

Nevertheless, it gave Rockcandy the recognition it had not yet received – the affirmation of its peers. Winners were determined from votes cast by musicians and others involved in the music business here.

In Monday night's first installment of the awards, (founded and) sponsored by Buffalo Backstage magazine, top 40 and jazz winners were announced before a crowd of more than 600 at Jacobi's, Lackawanna.

Silken Steel, one of the five bands to entertain Tuesday night, collected two firsts and two seconds overall. The group's singer Donna Palmer won in the rock female vocalist category. Its guitarist, Jimmy B. Lavay, was runner-up to Johnny Angel among hard-rock guitarists.

Multiple individual honors went to Bob Andalora of White Lies, who was first among rock guitarists and second in the rock male vocalist category. White Lies, meanwhile, won a first-place plaque for Single/EP and a runner-up award for drummer Mike Cox.

The group Strider took a pair of firsts and a second. It was tops in the rock band division, with drummer Johnny Magnum winning his category, and singer Glenda Chausse runner-up among female rock vocalists.

Taking a pair of awards was keyboardist David Kane, winning his instrumental division and taking runner-up in the Single/EP category. His musical sidekick, singer Mark Freeland of Electroman, was one of the three players inducted into the Buffalo Area Music Awards Hall of Fame.

Others receiving Hall of Fame honors were singer and pianist John Valby, the notorious white-suited "Dr. Dirty", "whose X-rated performances have made him a college cult favorite, and guitarist George Puleo, who demonstrated his dazzling fingerwork on stage with the jazz-fusion group Gamalon.

Frank Beach and the Duke Street Kings took top honors in the tribute band division for their Bruce Springsteen sets, while singer and guitarist Beach was declared most popular rock performer in voting by the general public.
Winners & Runners–up:

HARD ROCK GROUP
Rock Candy
Silken Steel

ROCK GROUP
Strider
Little Trolls

CLASSIC ROCK GROUP
Only Humen
Doby Royal

ORIGINAL ROCK GROUP
Rock Candy
Arrivals

TRIBUTE BAND
Frank Beach & the Duke Street Kings
Kixx

BLUES GROUP
Willie May Band
King Snake

NEW ROCK GROUP
Silken Steel
Rock Candy

NEW NEW MUSIC ROCK GROUP
Goo Goo Dolls
New York to Paris

ALBUM
Rock Candy

SINGLE/EP
White Lies
David Kane

NON-LOCAL ROCK GROUP
Ice Water Mansion
Alpha Centori

CANADIAN GROUP
Rick Rose Band
Forgotten Rebels

ROCK MALE VOCALIST
Mike O'Mara – Rred
Bob Andalora – White Lies

ROCK FEMALE VOCALIST
Donna Palmer – Silken Steel
Glenda Chausse – Strider

HARD ROCK GUITARIST
Johnny Angel – Rock Candy
Jimmy B. Lavay – Silken Steel

ROCK GUITARIST
Bob Andalora – White Lies
Bobby Lebel – Rred

ROCK KEYBOARDIST
David Kane – many bands
Martin Victor – Alpha Centori

ROCK BASSIST
Alan Thompson – Tweeds
Paul Mordaunt – Standard

ROCK DRUMMER
Johnny Magnum – Strider
Mike Cox – White Lies

MOST POPULAR ROCK PERFORMER
Frank Beach

MOST POPULAR ROCK BAND
Doby Royal

SPECIAL AWARDS – HALL OF FAME
George Puleo
John Valby
Mark Freeland
Vincent Michaels