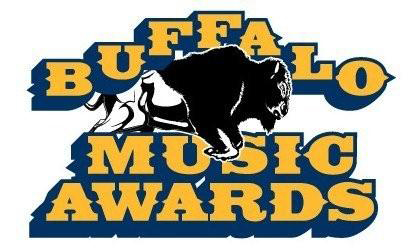 1989 BUFFALO MUSIC AWARDS
MANIKINS – NOVEMBER 1989
BUFFALO AREA MUSIC AWARDS ADD NEW CATEGORIES TO STOP FEUDING

Reprint:The Buffalo News
November 21, 1989
by Dale Anderson
News Critic

The two opposing camps in local music – the cover bands which play hit songs, and the original bands, which play songs they write themselves – came together Monday night at the ninth annual Buffalo Area Music Awards in Manikins Nightclub.

Producers Rick and Marsha Falkowski, heeding complaints that previous Music Awards slighted original bands, created nine new "alternative / original "categories for them.

The result was a high-powered intermingling of the area's rock & pop musicians in an eight-hour program featuring ten bands on two stages playing for a crowd that exceeded 1,500.

GOO GOO DOLLS - TOP ALTERNATIVE ROCK GROUP


The most dramatic moment was a short, furious, expletive-filled set by the Goo Goo Dolls, whose guitarist, Johnny Goo Goo, created a disturbance at last year's awards by protesting the dearth of original bands. This year he got one of the winners' plaques.

Lounge singer Lance Diamond threw roses into the crowd before launching into supercharged versions of the Temptations' "My Girl" and Creedence Clearwater Revival's "Down on the Corner."
The biggest winner was the trio Party Squad, which took first-place awards for each of its players and was voted best Classic Top 40 Band to boot.

Rockcandy, the toast of the 1987 awards, took four firsts as well, one as best Rock Original Band and three for individual players.
Three new members were inducted into the Buffalo Music Hall of Fame – guitarist Ernie Corallo, who played in Stan Szelest's Ravens in the 60's; journeyman R&B singer Billy McEwen of the Soul Invaders and Alan Thompson of the Tweeds, best bassist for three years running.

Two special awards were also given. One went to Rick Rose, leader of the most successful Canadian band to play the area. The other, for "reunion of the year," went to the Road, the area's biggest band of two decades ago, which regrouped last summer.

The winners and runners-up:

BLUES / R & B BAND
Soul Invaders
Willy May Band

NEW CLASSIC BAND
Rock Rats
Endless Summer

CLASSIC TOP 40 BAND
Party Squad
Only Humen

CLASSIC ROCK BAND
Kixx
Legend

TOP 40 BAND
Skin Tight
Lance Diamond Band

POP ROCK BAND
Mirror, Mirror
XKwisit

GROUP VOCALS
Only Humen
33 West

NEW ORIGINAL BAND
Them Jazzbeards
Beat City

ALTERNATIVE ORIGINAL BAND
Goo Goo Dolls
Beat Goes Bang

THRASH BAND
Terminal Grace
Cannibal Corpse

NEW ROCK BAND
Widow
Dragonfly

TRIBUTE BAND
Ozone Rangers
Wild Knights

ROCK BAND
Trolls
Jamie Moses Band

HARD ROCK BAND
White Lies
Nasty Habits

ROCK ORIGINAL BAND
Rockcandy
Tokyo Rose

NON-LOCAL BAND
Ice Water Mansion
Ice Nine

INSTRUMENTAL GROUP
Pat O'Connor Band
Light Years
SOLO / ACOUSTIC PERFORMER
Joe Head
The Dooley's

POP ROCK SAXOPHONIST
Jack Prybylski –   Streetlife /Them Jazzbeards
Nick Salamone – Big Wheelie

POP ROCK DRUMMER
Mike Cox – 33 West
Rick McEvoy – Only Humen

POP ROCK BASSIST
Frank Pusateri – Only Humen
Nick Veltri – Big Wheelie

POP ROCK KEYBOARDIST
Rick McGirr – Party Squad
Ned Wood – 33 West

POP ROCK GUITARIST
Dave Elder – Party Squad
Billy Martin, Jr. – Exotic Pets

POP ROCK FEMALE VOCALIST
Jean Deegan – Mirror, Mirror
Linda Mutton – Xkwisit

POP ROCK MALE VOCALIST
Mark Dixon – Party Squad
Richie Derwald – Nightwing

ROCK DRUMMER
David Joel – Rockcandy
Tim Edborg – Tokyo Rose

ROCK BASSIST
Guy Nichols – Trolls
Rick Ryan – Legend

ROCK KEYBOARDIST
Tracy Russell – Legend
Matt Young – Stride

ROCK GUITARIST
Michael Hund – Standard / Jamie Moses Band
Bob Muhlbauer – Ozone Rangers

HARD ROCK GUITARIST
Stephen Shaw – Rockcandy
Howie Simon – Ice Water Mansion

ROCK FEMALE VOCALIST
Donna Palmer – Widow
Christine Demrick – About Time
ROCK MALE VOCALIST
Joie Anes – Rockcandy
Calvin Nichols - Trolls

ALTERNATIVE/ORIGINAL DRUMMER
Greg Gizzi – Nullstadt / Them Jazzbeards
Bill Moore – Terry & the Headhunters

ALTERNATIVE/ORIGINAL BASSIST
Paul Mordaunt – Standard/ Jamie Moses Band
Kent Weber – Nullstadt/Fems

ALTERNATIVE/ORIGINAL KEYBOARDIST
Francis Preve – Beat Goes Bang
Jeffrey Mueller – Standard

ALTERNATIVE/ORIGINAL GUITARIST
Johnny Goo – Goo Goo Dolls
Jim Whitford - Pine Dogs

ALTERNATIVE/ORIGINAL FEMALE VOCALIST
Gretchen Schultz – Pine Dogs
Sue Kincaid – Beat City

ALTERNATIVE/ORIGINAL MALE VOCALIST
Terry Sullivan -  Terry & the Headhunters
James Stark – Beat Goes Bang

ALBUM
Nullstadt - "Flesh"
Scott Muir – "You're So Good"

SINGLE
Dark Stone "Back on Top/Lonely in Love"
Dooley's – Seasons of Love/Ring In"
TAPE
Standard – "Standard Time"
Jacklords – "Mother's Rock"