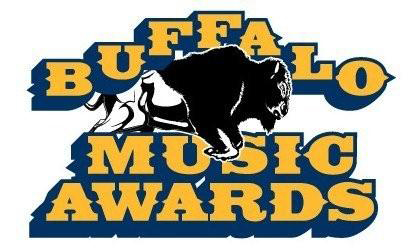 1981 BUFFALO BACKSTAGE MUSIC AWARDS
ROOFTOPS – NOVEMBER 23, 1981

---
BUFFALO BACKSTAGE AWARDS
GIVE TOP HONORS TO TALAS
Reprinted from the Buffalo Evening News ~ Tuesday, November 24, 1981
By Dale Anderson
News Critic

Rock musicians, fans and TV cameras packed the Rooftops Lounge in South Buffalo Monday night for the first Buffalo Backstage Music Awards and witnessed one of the area's perennial favorites take home the lion's share of the laurels.

Talas, the three piece combo that has reigned over the local scene since the mid 70's, captured the laurels for best musician-personality, best album, best drummer, best bassist, best guitarist, best rock band and best show band .

Winners were chosen from approximately 1,500 ballots submitted by readers of Buffalo Backstage magazine, an entertainment monthly that began publishing early this year. For the occasion, the editors obtained a proclamation from Mayor Griffin designating Monday as Buffalo Music Day.

"Thanks," guitarist Dave Constantino said as he accepted the last of Talas' plaques. "I'm sure you're sick of seeing me up here."
Talas bass player Bill Sheehan, winner of the personality award, was the evening's most conspicuous absentee.Missing one-third of their lineup, the band did not take its turn in the series of short performances that interspersed the presentations. As consolation, Constantino and singer Mark Freeland gave him an impromptu one-verse blues tribute.

The evening, which was videotaped for broadcast on International Cable Dec. 2 and 7, began a few minutes late with an invocation by the Rev. Bob Lilly and finished somewhat after 2 a.m. with the sounds of the Two Hills band, winner in the country-rock division.

Though the musicians shared a single stage set-up and no monitors, the quality of the performances was singularly high-spirited, from Benhatzel's opening reprise of Jimi Hendrix's "Star Spangled Banner" to the late-night intensity of Cheater's rendition of their award-winning single, "Ten Cent Love Affair."

Especially well-received was the synthesizer-driven Vincent Michaels Band, runner up to Talas in the rock band category, whose legion of Batavia-based fans flocked onto the dance floor and cheered them on to the only encore of the night.

Presenting awards were Cindy Chan of WGRQ-FM and George Prentice and Dean Matela of WZIR-FM, with the assistance of several Buffalo Jills and celebrated male dancer Stormin' Norman.

"I'm glad we did it," said one of the magazine's editors at the end of the proceedings. "Next year we should have it at Shea's."

Also performing were the Beez, Backroads, Parousia and Stross Fletcher.
WINNER & RUNNERS-UP
ROCK BAND
Talas
Vincent Michaels Band
COUNTRY ROCK
Two Hills
Backroads
NEW WAVE
Cheeks
Pauline & the Perils
COMMERCIAL
Emerald City
The Keys
JAZZ/BLUES GROUP
Buffalo Blues Band
Loosley  Tight
ACOUSTIC
Jeff Munzert/ Ray Wood
George Doran
SHOW GROUP
Talas
Cheater
MALE VOCALIST
Jeff Cosco – Cheater
Bob Maggio – Fat Brat
FEMALE VOCALIST
Jessie Galante – Actor
Pauline Digati – Pauline & the Perils
GUITARIST
Dave Constantino – Talas
Ken Wilczak – Fat Brat
BASSIST
Bill Sheehan – Talas
Doug Cerrone – Benhatzel
KEYBOARDIST
Vincent Michaels – Vincent Michaels Band
Blane Pierce – Cheater
DRUMMER
Paul Varga – Talas
Ron Rocco – Cheater
PERSONALITY/MUSICIAN
Bill Sheehan – Talas
Paul Pope – Paul Pope Band
PERSONALITY / NON-MUSICIAN
Taylor & Moore – WPHD FM
Dan Neaverth – WKBW
ALBUM
Talas
Pegasonics
SINGLE
Cheater
Two Hills
CLUB
Stage One
After Dark