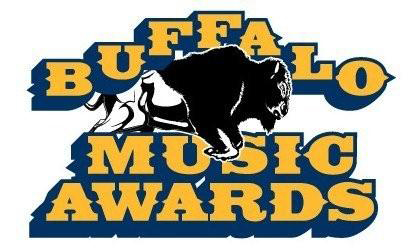 1984 BUFFALO MUSIC AWARDS
SALTY DOG SALOON
NOVEMBER 19, 1984


ROCK GROUP 'ACTOR' HOLDS CENTER
STAGE AT BUFFALO MUSIC AWARDS

Reprint from The Buffalo News
November 20, 1984
by Dale Anderson
News Critic

The cream of Buffalo's rock music scene came to listen, play and celebrate Monday night at the Salty Dog Saloon in South Buffalo at the fourth annual Buffalo Backstage Music Awards.

Actor was voted the Top Rock Group by readers of the free monthly music magazine. Music store owner Art Kubera was given special recognition for the help he's given musicians over many years. Keyboardist Ken Kaufman, who composed the soundtrack for the film "Vamping," and Fat Brat guitarist Ken Wilczak received Hall of Fame awards.

More than 900 fans and players showed up for a six-hour program that mixed awards with performances by the Fans, the New Beez and three of last year's honorees – Watchers, the Lumens and Gamelon.

Awards were given in 20 categories by a series of hosts that included Don Tomasulo from Festival East, Brian Dickman from Harvey, Corky & Tice and disc jockeys from WGRQ-FM. A jam session followed.

Don Tomasulo - Festival East Brian Dickman - Harvey, Corky & Tice

Buffalo Backstage/Buffalo Music Awards founder Rick Falkowski said that the method of balloting will be changed for the 1985 awards, with voting limited to musicians and media representatives. Some of this year's ballots were invalidated after it was discovered that forms were distributed among high school students to be signed, than filled out later.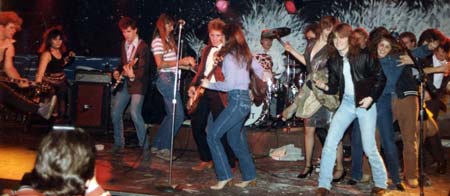 THE LUMENS BRING THE SHOW TO THE STAGE
The winners, with runner-ups in parentheses:
ROCK GROUP
Actor
Vincent Michaels Band
ORIGINAL GROUP
The Fans
The Lumens
COMMERCIAL ROCK GROUP
Big Wheelie
National Trust
JAZZ GROUP
Gamelon
Dick Bauerle Band
NEW GROUP
White Lies
Zilllion
NON-LOCAL CLUB BAND
Teenage Head
Clevelend
METAL GUITARIST
Kenny Andrews – Tobias
Bob Wilczak – Actor
GUITARIST
Bobby Lebel – Rred
Tim LaFik – Watchers
BASS PLAYER
Mac James – White Lies
Mike Lumen – Lumens
KEYBOARDIST
Vincent Michaels – Vincent Michaels Band
David Kane – Nullstadt
DRUMMER
Ted Reinhardt – Gamelon
Mike Terrana – Zillion
FEMALE VOCALIST
Lori Richert – Actor
Sue Kolaga – Insomniax
MALE VOCALIST
Mike O'Mara – Rred
Mark Anthony – Zillion
ROCK CLUB
Salty Dog
Septembers
COMMERCIAL ROCK CLUB
Tralfamadore Café
Playboy Club
PARTY BAR
Cassidy's
Mr. Goodbar
DANCE CLUB
2001 VIP
Uncle Sam's
BUFFALO RECORDING
Talas
Restless
NATIONAL ARTIST
Van Halen
VIDEO ARTIST
Billy Idol
CONCERT
Bruce Springsteen
SPECIAL AWARDS – HALL OF FAME
Ken Kaufman
Ken Wilczak

SPECIAL ACHIEVEMENT
Art Kubera – Kubera's Music Store

            SPECIAL AWARDS
Art Kubera, Ken Wilczak (Hall of Fame) Ken Kaufmann (Hall of Fame)