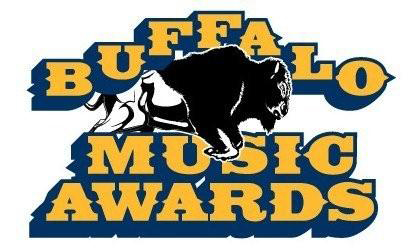 Mark Valentino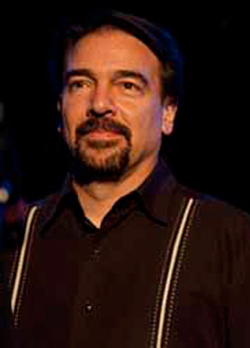 photo credit...Carl Cederman
2010 Buffalo Music Awards - Club Infinity
Mark Valentino was born in Brooklyn New York and started singing at a bar at the age of 4. He took drum lessons at 14 and was singing and playing the drums in bands in the local NYC area through his teens. The most popular was a band called "One Night Stand" which won a few 'battle of the bands' competitions in the late 70's and early 80's.
Upon going away to college, since Mark could not bring his drums into the dorm room while attending Buffalo State, he taught himself the guitar and performed some acoustic solo shows. With singing being his main passion and main skill, he felt it better to learn guitar and be a front man for bands.
Later he took guitar lessons from Tony Scozarro and Dave Constantino, but what most local people know Mark and Hit n Run for is the wide vocal range and ability. This vocal range allows Hit n Run to reproduce hits that require extreme high vocals from Journey, Styx, Franki Valli, Rush, Triumph, Bon Jovi, Kansas, Supertramp to lower ranges required to perform Creed, Neil Diamond and more.
With Hit n Run he has opened for many national acts such as: The Kinks, Franki Valli and the 4 Seasons, Honeymoon Suite (5X), Jeff Healy, The Fabulous Thunderbirds (2x), Rick Derringer, Edgar Winter, The Rascals, The Tokens, Blue Oyster Cult, Gary US Bonds, The Tubes, Steppenwolf, Firehouse (2x), Asia, The Little River Band, Brett Michael's of Poison, plus more.
Local bands that Mark performed with include, but are not limited to, are Hit n Run (Classic Rock), Wunderland (Progressive Rock), and Gator (Southern Rock).
Accomplishments:
Top Classic/Pop Rock Band with Hit n Run in the Buffalo Music Awards for 8 straight years from 2000-2008
Top Classic Rock Band with Hit n Run in the People's Choice Awards in 2003 and 2005.
Hit n Run inducted into the Buffalo Music Hall of Fame in October 2009.
Channel 4 (WIBV) reigning winner for "Best Of" Cover Rock Band.
Signed to a National recording contract by Rhapsody records in 2009.
DBA owner and forming member of Hit n Run.
Mark's contributions to the music industry don't just end with his singing and performing. He also worked as a Product Manager at PCB Piezotronics for the acoustic division. Mark helped design and bring to market very accurate Test and Measurement Condenser Microphones that range from 10 db to 192 db and 3 Hz to 140 kHz. Mark has given papers and presentations at Trade shows, on the field of acoustics, how sound is recorded, reflected and which applications are better for different response characteristics of pre polarized and externally polarized condenser microphones.
Mark would love to be known as a great entertainer that loves to make the crowd feel special by having them sing and dance all night long with Hit n Run.
Buffalo Music Awards Individually Won:
2010 Buffalo Music Awards Hall of Achievement
2009 Rock Male Vocalist
2008 Rock Male Vocalist
2007 Rock Male Vocalist
2006 Rock Male Vocalist
2005 Rock Male Vocalist
2003 Rock Male Vocalist
1999 Rock Male Vocalist
1996 Rock Male Vocalist
Other Awards:
2009 ArtVoice Awards - Top Male Vocalist
2008 ArtVoice Awards - Top Male Vocalist
2005 People's Choice Awards - Top Male Vocalist
2004 People's Choice Awards - Top Male Vocalist
2003 Peoples Choice Awards - Top Male Vocalist
Website: www.hitnrun.net