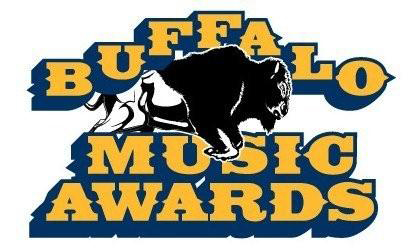 Alternative Rock Band
Sponsored by Macaroons
BLIND VISION

Mark Waley – Rhythm Guitar, Vocals
Mike DiStefano – Lead Guitar, Vocals
Colin Barrick – Drums, Vocals
Steve Cohen – Lead Vocals
Giulio Genua – Bass

Former members were Scott Harrington on bass and lead vocalist Rob Lake
Formed in 1996 Mark is last original founding member. Mike & Colin have been with him since 1997
Band has received many nominations over the years, with Colin winning Top Drummer BMA in 1997 They play party rock, which they consider "anything you might dance or pump your fist to or shout out the lyrics with us".
They play what they call "rocked up dance stuff, modern alternative stuff and classic arena rock tunes"
Website: www.blindvision.com

---

CATEGORY 5

Amy Zielinski – Lead Vocals
Brian Frasier – Guitar
Tony Truscio – Bass
Mike Zielinski – Drums

Formed in 2008, Category 5 performed a mixture of new rock, alternative, pop, hip hop, and country songs.
Their biggest fan base was their "home" in Lockport
Amy left the band in September to join Widow Maker
Brian is continuing the band Category 5 with new members: Michael Culmo (vocals), Peter Pittner (Bass) and Doug Arber (drums)

---

NO EXCUSES

Dan Laboski - Vocals, Guitar
Jim Campbell - Guitar
Jim Mangani - Bass
Sandy Belsky - Drums

An acoustic, unplugged, rock band that is nowhere near as subdued as the word implies. Their concept is "to play everything people like to hear but perform it acoustically
Dan is also the lead vocalist in Suckerpunch
Sandy is the drummer in Gravity
Photo: Delores-Thompson Stiegler

---

GRAVITY

Justin James – Vocals, Guitar
Dave Bailey – Guitar
Tony Catanese – Bass
Sandy Belsky – Drums

Formed in 2006, Gravity performed alternative rock by artists from the 1990's to the present
After a hiatus and lineup change in 2008 they returned in their quest "to become the premium modern rock group in the area
In the fall of 2010 they took another hiatus and at this time their future is uncertain
Drummer Sandy Belsky is now with the band No Excuses

---

MICHAEL BLY BAND

Michael Bly - Lead Vocals, Rhythm Guitar
Mike Cassidy - Lead Guitar
Jason Gerra - Bass Guitar
Anthony Magnone - Drums
Justin Lackie - Sax

Lenny Revell plays keyboards with them whenever he is in town and not playing his own shows
Formed in 2001 in New York City
2006 Michael moved back to Buffalo and added WNY musicians
In 2006 The Michael Bly Band took BMA for "Best New Group"
Signed to Heavy Tone Records in 2003 with two singles receiving local and college radio airplay in NYC
Released two CDs "Cliche" in 2003 and "Stay True" in 2009
Michael also plays acoustic solo and duo shows during the week at smaller functions and clubs
Michael has been a practicing attorney since 1999 specializing in all areas of criminal defense and family law
Website: www.michaelbly.com

HAIR NATION

Jim Crean – Lead Vocals
Chris Daley – Bass
Johnny Roxx – Guitar
Todd Pembleton – Drums

Hair Nation is an 80's rock tribute band that has been together since 2000
They have opened for national recording artists such as: Brett Michaels, UFO, Quiet Riot, Bad Company, Firehouse, Cinderella and Skid Row to name a few
The band consists of veteran musicians that say "The loud live stage show is back! Big Lights, Big Sound and of course Big hair"!
Jim Crean also performs with his original music project – The Jim Crean Band
Website: www.hairnationband.net

---

TOAST

Derrick Johnson - Drums, Vocals
Ken Myers - Guitar, Vocals
Eric Mowry - Guitar, Vocals
Ryan Downey - Bass, Vocals


Toast was formed in 1997 with a straight ahead format of guitars, bass and drums
Performs an eclectic mix of "early blues from the 50's, classic rock of yesterday and alternative pop of today"
They like to mix their musical genres and keep people guessing what will they play next
The band and its members have received BMA nominations for several years
Website: www.toastrock.com

---

METAL 101

Ron Russell - Lead Vocals
Dave Jerozal - Guitar
Mike Klodzinski - Guitar
BobBaker - Bass
Kevin Russell - Drums

After celebrating their fourth year anniversary of playing hard rock and metal covers Metal 101 decided to take the summer off with all the members working on other projects
Ron, Dave and Mike worked with Blood Shot
Dave and Mike worked in Straight Jacket
Kevin worked with Ace in the Hole
Dave worked with 2 Minutes to Maiden

---

KINGS OF GONZO

Ryan Jagiello - Lead Vocals
Dan Murtha - Guitar
Mike - Guitar
Jake - Bass
Kevin Murtha - Drums

---

PUSH BUTTON THEORY

Tim Klipfel - Vocals, Guitar
PJ Jazz -Guitar
John - Bass
Shawn- Drums


Formed in 2001, Push Button Theory performs alternative rock with acoustic overtones
They stopped performing this summer and returned in the late fall with a new line up
According to the band "Push Button Theory has been an evolving beast over the past couple of years. There have been a few changes in the line- up as life takes us in different directions but the music talent continues to be at a top notch level and is a force to be reckoned with".