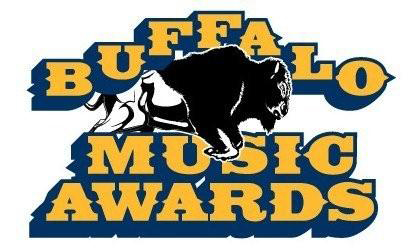 BUFFALO MUSIC AWARDS
Rooftops – November 22, 1982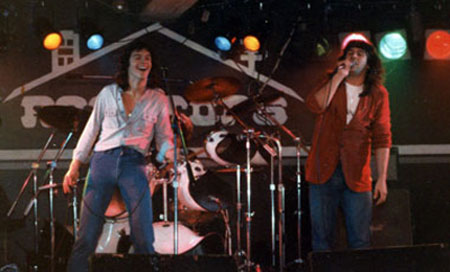 Top Male Vocalist Jeff Cosco and Runner-up Mike O'Mara (left)
LOCAL MUSIC AWARDS RAISE QUESTIONS
Reprint Buffalo News
Tuesday, November 23, 1982
by Tim Switala
News Contributing Reviewer

The music scene in Buffalo, like any other major American city runs the gamut of styles and expressions.
Varied priorities align groups and performers into distinct, seldom intersecting, pockets of prominence: cover bands vs. original music, agency groups vs. independents, innovative vs. repetition.
The better bands realize that it takes as much an understanding of the mechanics of the music business as it does playing music to be successful.

Monday evening, the second annual Buffalo Backstage Music Awards presented momentary status to a full house of musicians at the Rooftops Lounge on Seneca Street. While innovation was not always honored, popularity was.

So far as popularity contests go, the Backstage Awards successfully assembled many of the subsets of Buffalo's musical community. Sadly, however, it falls short of honoring an accurate cross section of performing artists.

The diligent effort of coordinators Rick and Marsha Falkowski does not go unrewarded; indeed, the majority of radio personalities and management reps attend, some acting as presenters.
Inconsistency arises when trying to determine what the purpose of this awards night is. If it is to show the strengths, hopes and desires of Buffalo musicians as being equal to those of other cities gaining national recognition, than why are imitative, copy bands rewarded? They may make up part of the musical community here, but they will not be the performers who will distinguish Buffalo nationally.

If the awards are to show how mulit-faceted Buffalo is, then why are the majority of independent, "new music" bands either relegated to the catch-all category of "New Wave" or completely overshadowed in the voting? (Note that in the balloting, "New Music Groups" are: bands that play music termed New Wave, Punk, avant-garde or experimental.)

More curious is the participation of the area radio stations. If these stations are into supporting local music, than why don't they play it? Take, for example, any of the nominees in the Single and Album categories, George Doran's song "Honesty" or the New Toys' album "Say It." It would be safe to say that the majority of radio stations present Monday evening won't, or can't, play them.

Approximately 6,000 ballots were received this year, with top vote-getters being Two Hills (more than 3,000) and "Non-Locals" 805 (out-distancing second place by more than 2,000 votes). High points of the evening came with performances by Taxi, with its one-two punch of drummer Ted Reinhardt and guitarist George Puleo, a promising new band called The Fans and an overseas phone call to London to Talas bassist Bill Sheehan, winner of the best bassist award. He gracefully declined. Special awards went to The Buffalo News' Dale Anderson and BCMK's Tom Calandra.

Winners and runners-up were:
HARD ROCK
Talas
Actor
POP ROCK
Buxx
Vincent Michaels Band
COMMERCIAL ROCK
Emerald City
The Scinta Brothers
NEW WAVE
The New Toys
Electroman
NEW GROUP
Easton West
Rred
COUNTRY ROCK
Two Hills
10 Gauge
JAZZ
Taxi
RPM
BLUES
Shakin' Smith
The Rhythm Rockers
ACOUSTIC
George Doran
Ray & Jeff
NON - LOCAL CLUB BAND
805
Harpo
SOUND & LIGHTS (CREW)
Buxx
Talas
SINGLE
Cheater – "We Came Here to Rock"
Actor – "Checkin' Out"
ALBUM
Buxx – "Knickers Down"
805 – "Stand in Line"
GUITARIST
Ken Wilczak – Fat Brat
Dave Constantino – Talas
BASSIST
Bill Sheehan – Talas
Paul Gallop – Buxx
KEYBOARDIST
Martin Victor- Buxx
Paul Rizzo -  Fat Brat
DRUMS
Paul Varga – Talas
Ron Rocco – Silver
MALE VOCALIST
Jeff Cosco – Easton West
Mike O'Mara – Rred
FEMALE VOCALIST
Jessie Galante – Actor
Chris Scinta – Scinta Brothers
JAZZ PERFORMER
Bobby Militello – RPM
Ted Reinhardt – Gamelon/Taxi
NEW WAVE PERFORMER
Mark Freeland – Electroman
Rocky Starr – The New Toys

ROCK CLUB
Stage One
Uncle Sam's
COMMERCIAL ROCK CLUB
Mean Guys East
Tralfamadore Café
RADIO STATION
WGRQ
WZIR
RADIO PERSONALITY
Jim Santella
Bob Kramarik / Snortin' Norton
SPECIAL AWARDS
Dale Anderson – Buffalo News
Tom Calandra – BCMK