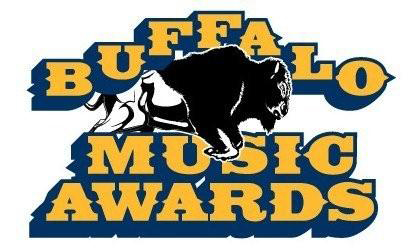 BUFFALO BACKSTAGE
MUSIC AWARDS
2001 CLUB – NOVEMBER 21, 1983

Dave Constantino, Billy Sheehan, and Paul Varga of Talas
ready for induction into the Buffalo Music Hall of Fame
by BMA and HOF Founder Rick Falkowski

BUFFALO'S OWN BACKSTAGE AWARDS
SCORE A 10 ON SCALE OF APPRECIATION

Reprint Buffalo News November 22, 1983
by Jim Santella
News Contributing Reviewer

Hollywood has its Oscars and TV its Emmys, but in Western New York, once a year, there are the Buffalo Backstage Music Awards. Monday night, the 2001 Club was the place to be as performance awards were handed out in 26 categories of music and related fields.

Rick Falkowski, who along with his wife Marsha, publishes Buffalo Backstage, a magazine devoted to music in Western New York, is one of the strongest supporters of local music. The awards were his idea of "bringing attention to the diverse talents that make up the local music scene; to help local musicians get a chance to express themselves in print and let their fans know what they are doing." When Rick's talking about local music, it's mostly rock-orientated bands that are being discussed.

The choice of 2001 as a showcase for the awards seemed to be slightly out of place. The large two room area made it difficult to listen to the music being featured in one room and the awards presentations that were going on in the other.

With longtime local favorite Talas no longer together, there were new faces in many of the categories. The Best Rock Group Award was won by a re-formed Cheater band, while Buxx proved to be the Most Original Local Band.

Billy Sheehan, last year's best bass player, was warmly greeted as he made the presentation of this year's Best Bass Player award to Paul Gallop. Tim Fik was a first- time winner in the Best Guitarist category, while a couple of performers and bands repeated from last year.

For a second year in a row Shakin' Smith's group was voted best Blues/Funk Band, and RPM, Bobby Militello's fine jazz group, was another repeat winner from last year. Also for the second year Z-98's Bob Kramarik was runner-up in the Air Personality category, won this year by 97 Rock's Carl "Love-Me-or-Leather" Russo. 97 Rock also won Best Radio Station.

Best Rock Band – Cheater
Most Original Local Band – Buxx
Best New Music Group – the Lumens
Best New Group - Watchers
Commercial Rock Band – Scinta Brothers
Best Blues/Funk Band – Shakin' Smith
Best Jazz Group - RPM
Country Rock Group – Ozone Rangers
Best Non-Local Club Group – 805
Best Buffalo Recording Group – Talas
Best Local Copy Band – Emerald City
Best Male Vocalist – Phil Naro (Talas)
Best Female Vocalist – Reeta Seitz (Watchers)
Best Guitarist – Tim Fik (Watchers)
Best Bass Player – Paul Gallop (Buxx)
Best Drummer – Ted Reinhardt (Gamelon)
Best Keyboardist – Martin Victor (Buxx)
Best Air Personality – Carl Russo (97 Rock)
Best Radio Station – 97 Rock
Best National Artist – Phil Collins
Best Concert of the Year – David Bowie
Best MTV Video – Duran Duran
Best MTV VJ – J.J. Jackson
Hall of Fame – Bill Sheehan, Dave Constantino, Paul Varga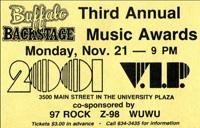 THE ENVELOPE, PLEASE
Reprint – Gusto – November 18, 1983

Now in their third year, the Buffalo Backstage Music Awards have established themselves as something of a hometown version of the Oscars or the Grammies. Like the free monthly magazine that sponsors the annual awards show, the honors cover a wide variety of styles and categories from, from jazz to New Wave rock, as well as clubs and radio stations.
This year will also see the beginning of a Hall of Fame. The winners, as determined by readers' ballots, will be announced Monday starting at 9 p.m. in the 2001 VIP Club in University Plaza. As in previous years, this round of recognitions will last long into the night and will include most of the leading musical lights in town, either in the audience or on stage. Scheduled to play are Shakin' Smith and his Blues Band, Cheeks, X-Dreams, Two Hills, the Beez, the Lumens and a jazz group yet to be determined. A big jam session will wrap up the evening. In addition proceedings will be videotaped for future broadcast on International Cable.

The Beez Performing at the BMA's