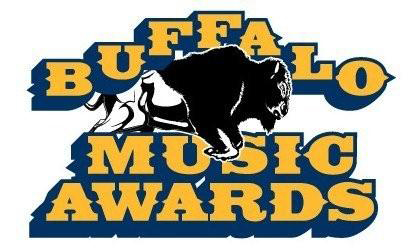 2005 BUFFALO MUSIC AWARDS
CLUB PARADISE
Reprint Buffalo News – Gusto
November 2005
Byline: Jeff Miers
News Pop Music Critic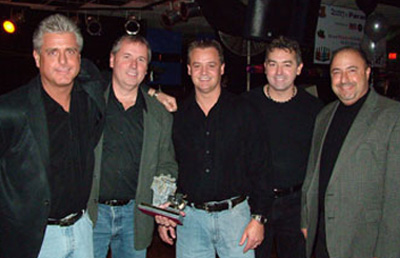 TOP 40 and GROUP VOCALS
THE BOYS OF SUMMER

SINGING PRAISES
BUFFALO MUSIC AWARDS
RECOGNIZE THE BEST FROM COVER TO ORIGINAL

The 25th annual Buffalo Music Awards took place Thursday evening inside Hamburg's Club Paradise. Musicians in a broad range of idioms, from original rock and alternative, to blues, R&B and Top 40 cover bands, were honored through 65 awards.
Since its inception, the awards ceremony has evolved considerably as more categories were added and original artists began to share the spotlight with the considerable population of journeymen making their living on the cover band circuit. At this point, the awards seek to be inclusive, reflecting the fairly vast musical landscape in Buffalo and its surrounding environs.

The awards noted the contributions to the musical community of both individual instrumentalists/performers and ensembles. There were some familiar names, some new additions to the roster, and a few surprises as well.

Distributed awards were essentially split down the middle between cover artists and original acts, with various blues and R&B performers – where the distinction between "original" and "cover" is less important – filling in the difference….

Incomplete list of winners from the Buffalo News article follows:

NEW ORIGINAL BAND
The Corrections

ORIGINAL ALTERNATIVE BAND
Last Conservative

ORIGINAL ROCK BAND
Alison Pipitone Band

ORIGINAL MALE VOCALIST
A.D. Lewis - Klear

ORIGINAL FEMALE VOCALIST
Alison Pipitone – Alison Pipitone Band

ORIGINAL GUITARIST
Charlie Quill – Steam Donkeys

ORIGINAL BASS PLAYER
Leo McDonald – Klear

ORIGINAL DRUMMER
Denny Pelczynski - Klear

ORIGINAL ACOUSTIC SOLO
Dee Adams

ROCK BAND
Black Widow

HARD ROCK BAND
That 80's Hair Band

TRIBUTE BAND
Coda

CLASSIC ROCK
Route 66

POP ROCK
Hit N' Run

TOP 40
Boys of Summer

MALE VOCALIST HARD ROCK
Mike Maguire – Coda

FEMALE VOCALIST COVER
Lana Hergert – Black Widow

HARD ROCK GUITARIST
Justin Kubiak – Strictly Hip

ROCK GUITARIST
Geno McManus – The Ifs

ROCK KEYBOARDIST
Nelson Starr – Party Squad

ROCK BASSIST
Tom Herr – Hit N' Run

POP ROCK BASSIST
Jim Wynne – About Face

POP ROCK DRUMMER
Pat O' Connell – Boogie Monsters

ROCK DRUMMER
Shannon Street – Mark Stanley Band

MALE VOCALIST BLUES
Rod Nickson – Rod Nickson

FEMALE VOCALIST BLUES
Kate Engler – Kate Engler Band

BLUES GUITARIST
Tommy Z – Tommy Z Band

BLUES BASSIST
Jim Whitford  -  Mark Winsick Band

BLUES KEYBOARDIST
Jimmy Wozniak – Bittersweet Rose

BLUES DRUMMER
Rob Lynch – Scratch / Lo Blue Flame
The following are categories not listed in the Buffalo News article. We have entered the results for categories we could confirm.
If you have information on the winners for any of these categories please forward to us. We will consolidate the results after additional categories are confirmed.

ALTERNATIVE ROCK - Suckerpunch
NEW GROUP -
SHOW BAND – Terry Buchwald
AMERICANA / COUNTRY – Bareback Jack
SOLO – Gregg Sansone
DUO / TRIO – Lana / Hund
GROUP VOCALS – Boys of Summer
R&B GROUP -
R&B MALE VOCALIST -
R&B FEMALE VOCALIST -
R&B GUITARIST -
R&B BASSIST -
R&B KEYBOARDIST -
R&B DRUMMER-
JAZZ GROUP -
TRADITIONAL BLUES BAND -
CROSSOVER BLUES BAND-
ROCK MALE VOCALIST – Mark Valentino
BLUES HARMONICA -
BLUES SAX PLAYER - Jack Prybylski